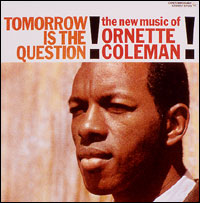 Ornette Coleman's 1960 album Tomorrow is the Question had a profound influence on me. I believe I first started to understand Coleman when I was living in Belgium in 1993, and ten years later this album remains an emotional tour de force.
"Tears Inside" gets at that feeling of crushing sorrow which drains away even the energy to cry. The melody is beautiful, hesitant, almost swallows itself. The rhythm section (bass and drums) is sparing, in some parts playing only in the space between Don Cherry's trumpet lines or Coleman's sax solo.
I get the feeling of "Tears Inside" in dreams. It stays with me for the rest of the day, eerily unattached to a particular event or even thought.