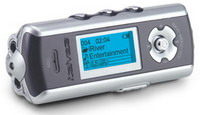 New in circulation on my iRiver iFP-799:
If you're like me, you'll like all these albums.
I've been quite happy with my iRiver MP3 player (which I've taken to calling "my iPod" which tends to confuse people). It's tiny, holds 1G of music, and plays ogg files. I only yesterday discovered its great flaw: you can't move files off of the device. According to the FAQ:
Why can't I upload my MP3 / WMA files from my iFP player?

A. Due to copyright protection laws that apply towards our technology, media files (MP3 / WMA files) cannot be uploaded from an iFP player to a PC. All other non-media files (documents, images, etc.) can be uploaded to a PC from the iFP player.
This restriction is in the firmware, so there is no trivial workaround. Apparently one workaround is to rename your files so they don't have a music extension before moving them off the device, but that didn't work for me, and is also terribly inconvenient.
I suppose iRiver implemented this control to avoid liability for contributory infringement, but it just seems damn silly to me. My Neuros Audio Player had no such restriction, and my impression is most portable music players let you move music on and off as desired. There is also apparently an alternative firmware that turns the device into a simple USB storage drive (while still functioning as a music player) that eliminates the restriction.
My biggest fear is that, by implementing this sort of unnecessary and unhelpful copy protection technology, hardware makers who fail to implement such controls will be accused of contributory infringement because they didn't meet "industry standards."