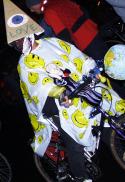 Highlights from the San Francisco Halloween Critical Mass this Friday:
Friendster. That's right, one of the riders was dressed up as Friendster. Unfortunately I don't have a photograph, but it was immediately obvious to anyone who is familiar with the service that this person was, in fact, Friendster. I'll leave it up to your imagination.
Matt Gonzalez, a leading progressive candidate for Mayor of San Francisco. He was wearing a suit and rode at least as long as I did on this ride, which must have included thousands of riders. Gonzalez has been endorsed, among others, by the San Francisco Bicycle Coalition, and film director Michael Moore. Sometime I hope Boston Critical Mass will build the sort of political clout the San Francisco Mass has.
Blinky lights. Unlike Boston, there are some long open stretches in San Francisco that go up and down hills. At one point, it was possible to see thousands upon thousands of blinky lights, stretched out up a long stretch of Van Ness. A spectacular sight.